| | |
| --- | --- |
| Posted by epswahn on July 18, 2017 at 1:30 PM | |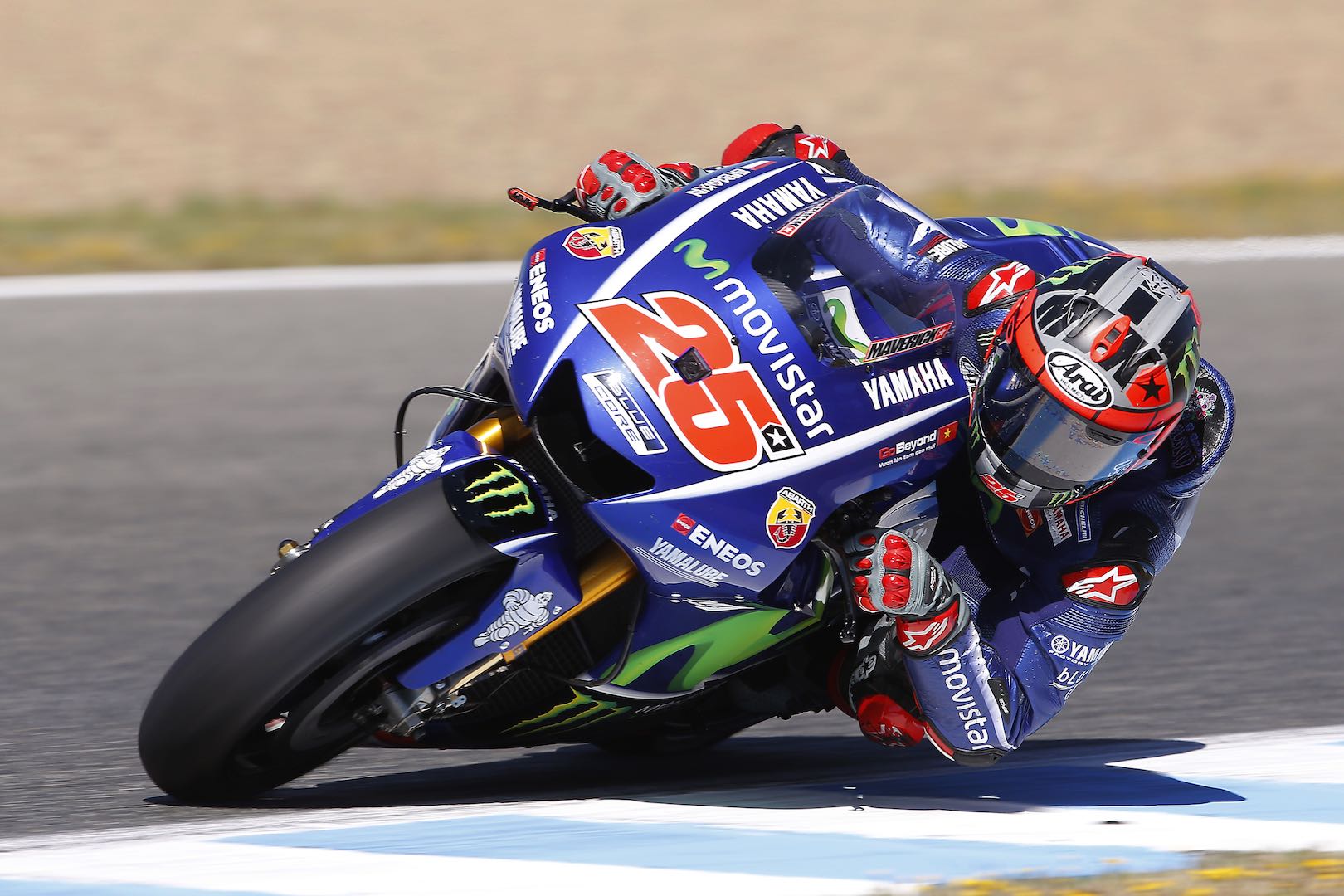 (Maverick Viñales, 2017)
What Is More Entertaining, MotoGP or World Superbike? – 07/18/17

As a racer, I love watching a wide variety of racing over the average casual fan. I'll enjoy just about any race that has good coverage you can follow from world level down to local club racing. I believe you can learn something from every category, they each have something to offer. When it comes to the rivalry between MotoGP and World Superbike, there are some major differences, but at the heart is good competitive motorcycle racing.
MotoGP is the pinnacle of the entire sport, with three classes comprised of Moto3 (250cc), Moto2 (600cc), and MotoGP (1000cc) bikes. The top class, allows for prototype purpose built racebikes which are the fastest on the planet. It's very much like a Formula 1 atmosphere for motorcycles, with the newest trends and technologies coming out of this arena. Factory teams such as Ducati, Yamaha, Honda, KTM, and Aprilia, and Suzuki all compete in MotoGP currently and recently the series has seen a few new manufacturers get into the action. In past years, a handful of rider and team combinations largely dominated the competition. New sporting regulations have helped to bridge the gap between the satellite teams that operate without factory support, which has given birth to some tremendous battles. Since these bikes are prototypes, it's virtually impossible to purchase one of these unless you have a few million dollars cash in the bank. These machines are valued around 2 million each, with tens of millions going into a single team program per year of development, operation, and travel expenses.
The two lower classes act as feeder programs towards to ultimate class, but a hotly contested series like this brings talent from well over a dozen countries. Only the crème of the crop advance to higher rankings here. In recent years, one of America's best Josh Herrin, the reigning 2013 AMA Superbike Champion got his shot at Moto 2 for the 2014 season. Although he didn't do exceedingly well in his first international season, his team gave him the boot and took on another rider who didn't do much better than Josh. It was a very disappointing time for the American fans who didn't feel he was given a real shot. Given some extra time to get up to speed, Josh could've been our next American racer on the world stage.
Moto 3 racing is some of the most exciting and close competitions you'll ever see in racing. Due to extreme drafting and their lightweight bikes, it's common to have large packs and groups of riders. At Mugello in Italy earlier this year, there were 21 riders being covered under 3.5 seconds at the finish line of a full-length 20 lap race. Overtakes happen at just about every other corner in a race like this. Lead changes seem to be an inevitable lap by lap occurrence in this field. While I did own a 250, I haven't yet had the pleasure of racing in the lightweight category. I would be a decent candidate with my low weight at 145lbs but being 6' tall gives me a slight disadvantage. I wonder how I would've fared in these battles.
World Superbike WSBK is the production based version of MotoGP. Their theory is that they want to be as close to what you can buy off the showroom floor as possible. They want you to be able to go out to your local racetrack and say I was 20 seconds slower than Chaz Davies on the same bike. That is not exactly the case right now but even so they're specifically not a prototype series. Understandably, the manufacturers want to push for this as much as they can, and the teams want to cut costs any way that they can. Some of the largest costs involve engine research & development, designing new parts, and expensive modifications. If everything was closer to being homologated, true talent tends to rise to the top, also creating a better competitive environment.
The two-competing series aren't explicitly competing against each other for viewership, they do want to further distance themselves from each other. Generally, the more well-known series is MotoGP, but diehard fans exist on both sides. It matters a lot where you live though. In my experience, it's hard to find other people who even know that a race is going on, or that the series even exists here in Metro Detroit, Michigan. There are fans here, but much more widely dispersed. I imagine many European countries having a huge buzz on race day like how American Football is celebrated here.
The World Superbike Series has several classes, starting with the new World Supersport SSP 300, Superstock STK 600, Supersport SSP 600, Superstock STK 1000, and Superbike SBK 1000. Both the 600 and 1000 classes have stock and modified classes available to compete in.
Supersport 300 is a class comprised of the new talent yet to be seen on the larger international stage. It's a brand-new class for 2017 with the minimum rider age being 15. It's designed to be an affordable class where the opportunity for riders to become a professional racer is a real option. Riders will be allowed a lot of flexibility in testing and racing with any other championship to utilize every advantage they can. The series is currently only existing at the European rounds to cut costs even further, which seems a little biased in my opinion, but I get it.
I believe the Superstock STK 600 and Supersport SSP 600 classes have been combined in recent years. They used to be scored separately but they felt that they were so close in speed already there was no need to keep the class. Adding the 300 class was also more important than keeping 2 distinct 600 classes. One of my favorite races to watch, the 600 class is always a mix of overzealous rookie riders with experienced veterans. You typically get a lot more crashes than the 1000 class racers, closer racing because of less differences in speed, and times that are not far off from the superbikes, depending on the track.
The Superstock STK 1000 class is still run separately from the Superbike class. They have such a large number of competitors that it makes sense to split up the two. The Superstock class is a great place to learn how to ride a 1000 in competition without having to make the huge jump in expense of the top Superbike field. The only downside here is going to be the amount of coverage you can expect. In the STK 1000 gets significantly less coverage than SBK 1000, but some riders opt to run in STK because they have a better chance of finishing higher.
The main feature race of the day is the Superbike SBK 1000 race. Unlike all the other classes, they race on both Saturday and Sundays now. I do like this format, but it's not currently possible for the other classes, there just isn't enough time. This way the riders get two chances at a race. The weather is likely going to be different between the days and offers different race conditions, and hopefully different results, hopefully making the championship closer at the end of the year. Another new feature they introduced this year is a reverse gird after Race 1. The top 9 finishers from race 1 are reversed, letting the midpack riders get in the spotlight for a few laps while forcing the fastest riders to make their way back to the front, or to perish. This so far hasn't stalled the front runners too much. The fastest riders get through no matter what, but it does create some fireworks! I would go as far as saying that a fully reversed grid for race two would be even more exciting!
Domestic series for individual countries resemble World Superbike classes far more than MotoGP. For MotoAmerica, the national series in the United States, the goal is to have the regulations be as close as possible if not identical from the world level down to the national level. This allows virtually anyone who competes in WSBK to come over to MotoAmerica and race in a wildcard event or to jump into our series with the same bike. It might not make financial sense to build a whole new bike for a different series, but if the regulations are identical, it makes it a real option.
Toni Elias, a former Moto2 World Champion made the jump from the World Stage to MotoAmerica. You might think this is the opposite direction you want to go in but for Toni, maybe it was right for him. As a Spaniard, he always wanted to spend more time learning about America. This also lessens his grueling travel load over the years. An international season of competition in GP or WSBK visits over a dozen countries, and days and days full of travel. On the other hand, a domestic series might give you a smaller pool of athletes, but the ferocity is still very high. Toni was able to win many races in his first year, and is currently Third in the Championship Points Standings in 2017, but the former MotoGP race winner has still yet to claim an American Superbike Title.
I choose to not pay for cable, so sometimes I need to get a little creative with how to watch the action. I just hook up a laptop next to my TV and use an HDMI cord.
The next upcoming races are:
MotoAmerica – Sonoma Raceway, California, USA, August 11-13 - MotoAmerica.com
-I watch the races for free on the beIN SPORTS USA YouTube Page typically a week after they're broadcast live.
World Superbike – Lausitzring, Germany, August 18-20 - WorldSBK.com
- I watch the WSBK races live from the SBK Video Pass, an annual subscription for less than the cost of a single ticket
MotoGP – Brno, Czech Republic, August 4-6 - MotoGP.com
- I also pay for MotoGP, but again it's a ton of content and action for less than a ticket price. You can also watch every past race, which is awesome!
Most popular post on Instagram
Incredible results all around at the German GP!
P.S. Please check out my latest project, my webstore! I've been working to populate the store with thousands of items, we're currently over 1,600 total https://eric-swahn-racing.myshopify.com/. Let us know what you think!
See you at the races!
-Eric
Categories: 2017