| | |
| --- | --- |
| Posted by epswahn on May 7, 2014 at 8:00 AM | |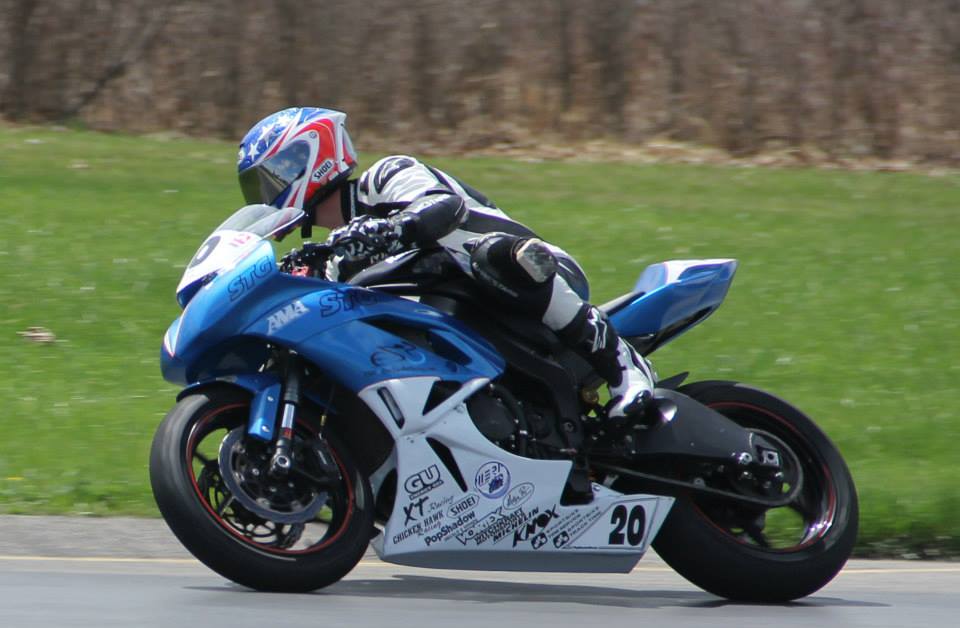 As all racers know, time can come up on you very quickly in preparing for racing. My first test of the season was set for Gingerman Raceway the weekend before the first round of racing with WERA. Since I was working at the Sportbike Track Gear open house on Saturday 04/26/14, I left from there and went straight to the track with Sportbike Track Time. After setting everything up, I pitted with Dave Grey, who was also vending tires for Michelin and Sportbike Tire Service. With a massive amount of help from Dave, we got the motor all hooked up and put the finishing touches on the bike just in time as the track day was coming to a close. We had some issues in getting the bike to stay running, among a few other issues that were sorted out. I was happy to get the bike running and heat cycled properly, but disappointed that I didn't get to turn any laps on the newly freshened up suspension and motor. I did however get to ride my Trek VRX Mountain bike around the track a few times, but it's just not the same.
The following Thursday I ended up getting my bike dynoed by James Bhathena who also worked on my motor, and was at the track a few hours later. Talk about a time crunch! I was set to get some valuable practice at Grattan Raceway with STT on Friday. It was a licensed racer / pro school day with only 2 groups and 30 minute sessions instead of the typical track day of 3 groups and 20 minute sessions. As the weather predicted, the weather was rainy, cold, and miserable. The conditions were so bad that there were only a handful of people on track at any given time. I decided to sit the day out, and keep the newly freshened up bike in one piece. The time off allowed me to go through a long list of mental checklists in preparing the bike to make sure everything was right and accounted for. I borrowed a heat gun from Steve Palella, the husband of the mastermind behind Pop Shadow Decals (Tea Palella), and got all my number plates, sponsor decals, and logos applied and situated. It's pretty cool to have a belly pan full of legitimate sponsors who support what I do.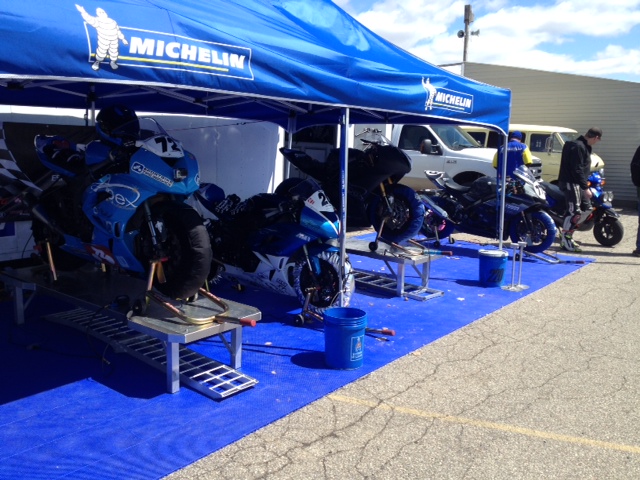 Saturday was the official start for WERA race practice and the weather was playing games with everyone again. I think the only people who had fun were the tire vendors who just about sold out of every rain tire they brought. One minute it would be pouring, and the next the sun would be trying to come out. Since the conditions weren't much better than Friday, I decided to play it safe and sit out morning practice as well. Having an extra set of rims to mount rain tires, or even a "B" bike for that matter would've definitely changed my decision.
After lunchtime, The Middleweight Solo 20 lap race was up for me. The first laps of the season I got came during the race. Over seven months had passed between rides, yet within a few laps it came back to me pretty quickly. The weather took a turn and cleared up quite a bit, the track was mostly dried out. There were still a few areas that you had to tiptoe around due to water spots or even water seeping out of Grattan's famous sealer patches. When the green flag waved I started off the line fairly well, and dropped back to 2nd from last intentionally. My goal was to finish the race comfortably and use it purely as practice. Solo 20's don't pay out any championship points, so it's common for riders to come in during a race and make adjustments as well. I started off at a slow pace and dropped time just about every lap. Since the track was so green (no grip, cold, windy, and damp), nobody was even close to the times we set last year. In fact, my fastest time of the day was about 16 seconds off pace from last year to give you a feeling of the conditions.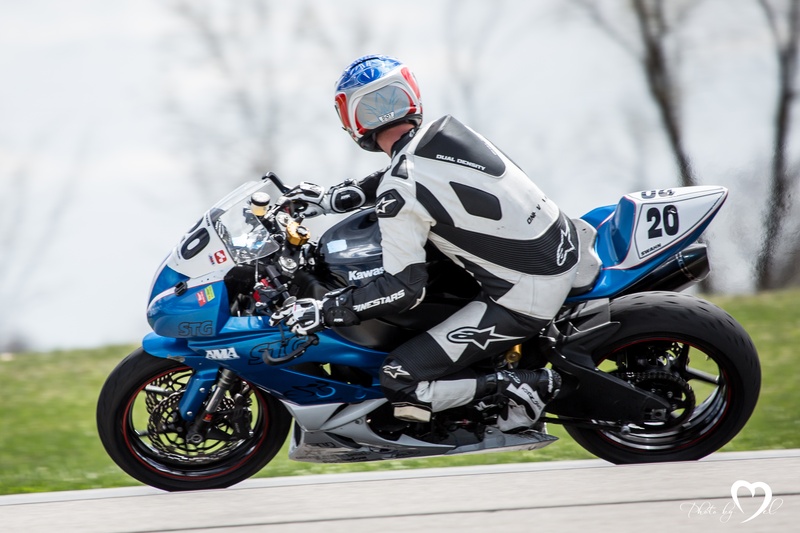 Through the years of going to many different racetracks you find out that each track has something unique. Animals are not always afraid of motorcycles and I've seen turtles, Blackhawks, geckos, and squirrels on the racing surface. Sunday morning an announcement came over the PA that there was a worm alert. That one was a first!
The most important day of racing is usually Sunday. It was still fairly cold and windy but the sun was out and not a chance of rain. During morning practice, I had already dropped seven seconds just based on the conditions. I had four 8-lap sprint races all for championship points. I chose to enter both the B's and the C's (B = 750 Superbike, 750 Superstock / C = 600 Superbike, 600 Superstock).
My first race of the day was C Superstock. Due to the way I finished off last season so well, I was gridded on the front row for all sprint races. I didn't get a great jump off the line and got mixed up with a few riders. Gary Kole got past me and looked like he was flying! Unfortunately coming up T3 he lost the rear and took a nasty spill. I came up the hill to see both the bike and Gary sliding in my direct path of intended travel. Luckily I had enough time to avoid him and the race was red flagged to clean everything up.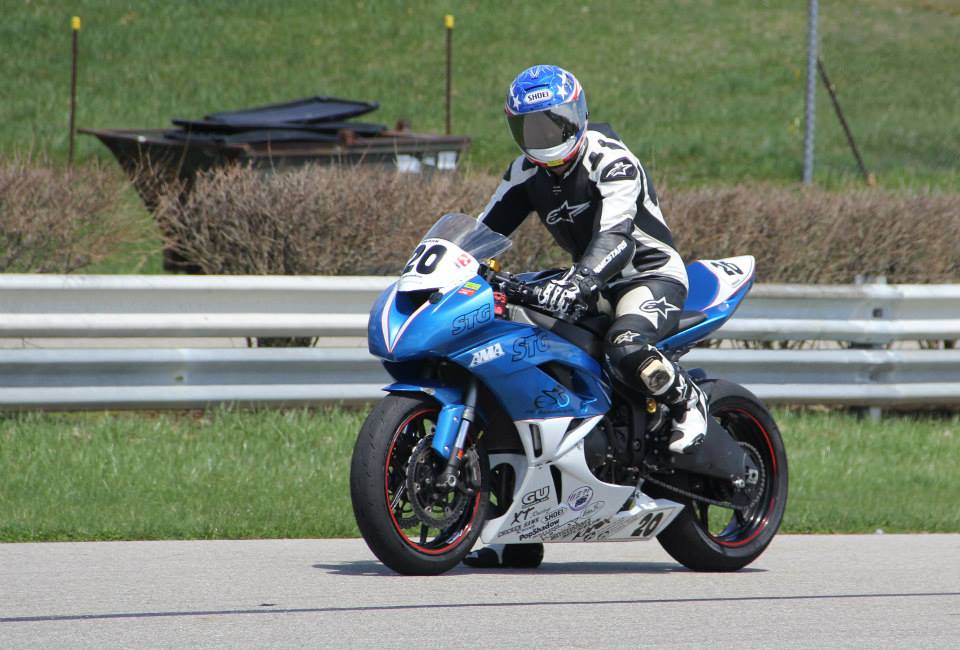 Since the race didn't go the past half distance before being red flagged, we had a full restart. I got a great start off the line this time and it was a three-way drag race for the first corner. I was 2nd on entry to the corner and just outside of William Sweeny who got the holeshot. Trying to go around the outside of him to make a pass, I anticipated he would hug the corner tight as usual. I was wrong! In a race with 15 riders, we made contact with 13 other riders right behind us in the first turn of the first lap. Sweeny's outside foot peg made a gash in my bodywork and if not for brake lever guards, it could've turned out to be catastrophic. Fortunately it just gave me a wobble and I kept on racing. I was unable to catch back up to the leaders but I was happy to improve my pace another 4 seconds from the morning and keep the front-runners in my sights. I ended up 4th place with Ryan Christian breathing down my neck a quarter of a second behind.
My 2nd and 3rd races of the day were B Superstock, then C Superbike. They were back-to-back races where I didn't have a chance to get off the bike, or even take a sip of water. In B Superstock, I ran a solid race. My times weren't fast enough to win, but I secured a 3rd place podium position. I started well and had quite a gap to 4th place so I settled in and made sure I rode the bike all the way home.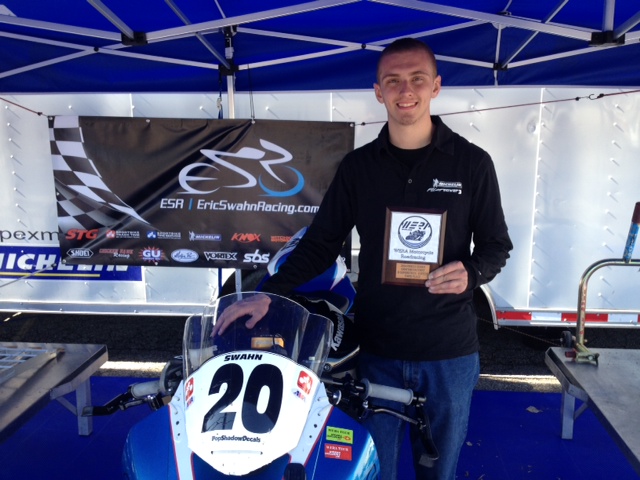 In C Superbike, I felt even more confident. I didn't have the greatest start, and found myself in 6th when we came around completing a lap. The most eventful part of this race was when Carl Soltisz decided he wanted to "dive-bomb" me into the bus stop. While I was in the middle of the corner, I saw a bike trying to come up the inside of me. I wasn't off-line, or wide so I held my line. To my surprise, he hit me and bumped me off the line. I guess rubbin's racin'. It upset the bike more than the earlier collision with Sweeny, but I gathered it back together and charged on. Now I have a big scratch on the left and a gash on the right of my brand new bodywork. This time it was war! I caught him and passed him without too much trouble. Later, I found myself catching up to Sweeny but couldn't find a way past for what felt like forever. He really knows how to block at Grattan. I finally made my way past him around lap 7. I ended up finishing in 4th only 1.5 seconds off the leaders best lap time.
My last race of the day was B Superbike. I had another good launch and settled in to 4th place. I kept Cale Jones pretty close all race and must've felt a little too comfortable. This time, on lap 6 Carl got past me cleanly and kept a slight gap on me. I finished in 5th by less than a second.
Overall, I would've liked to finish better, but I can't really complain for having virtually zero testing or track time to start off the year. I have a list of things to improve on the bike, and for myself. Now that I have a few weeks until round 2, I'll be training hard on my fitness and getting the bike in even better shape. The next event is at the WERA Cycle Jam at Road Atlanta, in Georgia on 06/05-08/14.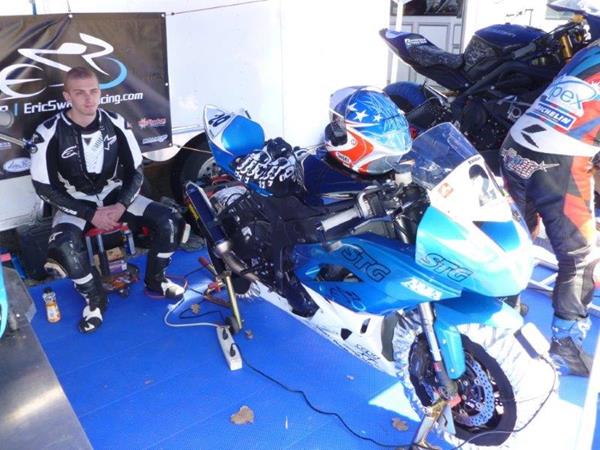 I'm very grateful to all my sponsors for helping to support Motorcycle Racing in the United States. Partnering companies are as follows: Sportbike Track Gear, Sportbike Track Time, Sportbike Tire Service, Michelin, Knox USA, Witchkraft Motorsports, Pop Shadow Decals, Shoei Helmets, Chicken Hawk, GU Energy, Motion Pro, Vortex Racing, SBS Brakes, XT Racing, and Ballistic Performance Components.
I'd also like to personally thank Richard Harris, David Grey, Brian Van, Nick Piccolo, Photo by Mel, Dawn & Mark Merical my parents Laura & Paul Swahn, as well as the entire WERA Crew and corner workers that make racing possible.
Thanks for reading, leave a comment!
-Eric Swahn

Categories: 2014