| | |
| --- | --- |
| Posted by epswahn on July 19, 2013 at 1:05 PM | |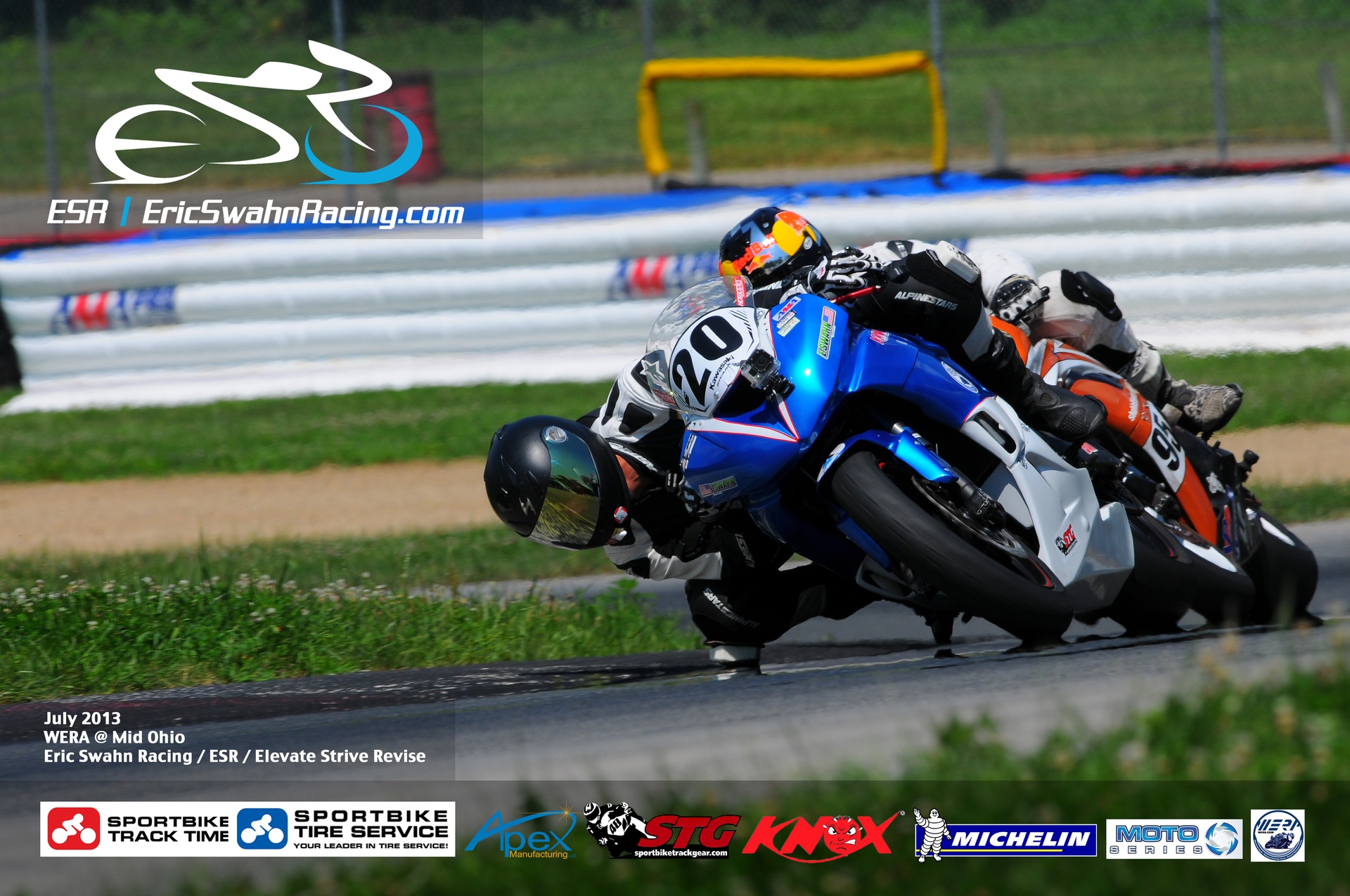 After five weeks off the bike and a lot of work on the bike, the next WERA round for the North Central region was held at Mid-Ohio. This event was over a week long and hosted AMA Pro Roadracing, WERA Sportsman Series, and Vintage Motorcycle Days. After the pro guys left, we got there and set up for two track days. I had never been to Mid O and although I have watched many races over the years there, I had some work to do.
With the crash at Road Atlanta last time out on the bike I had a few obstacles to overcome. I bought a new suit from STG, and got some new KNOX Handroids courtesy of Nick Piccolo. Aside from wearing the suit for a half day at work when it came in, this would be the first time I wore it with my armor in. This suit was tight, so tight I had problems leaning off the bike all day. The weather was over 90 degrees every day and with the heat index it was over 100. I don't think I've ever sweat that much in my entire life as I did those four days. Although I had to drink gallons of fluid to keep hydrated in the end it probably helped stretch the suit out faster. The gloves and suit were almost unnoticeable that they were new by the end of the practice days.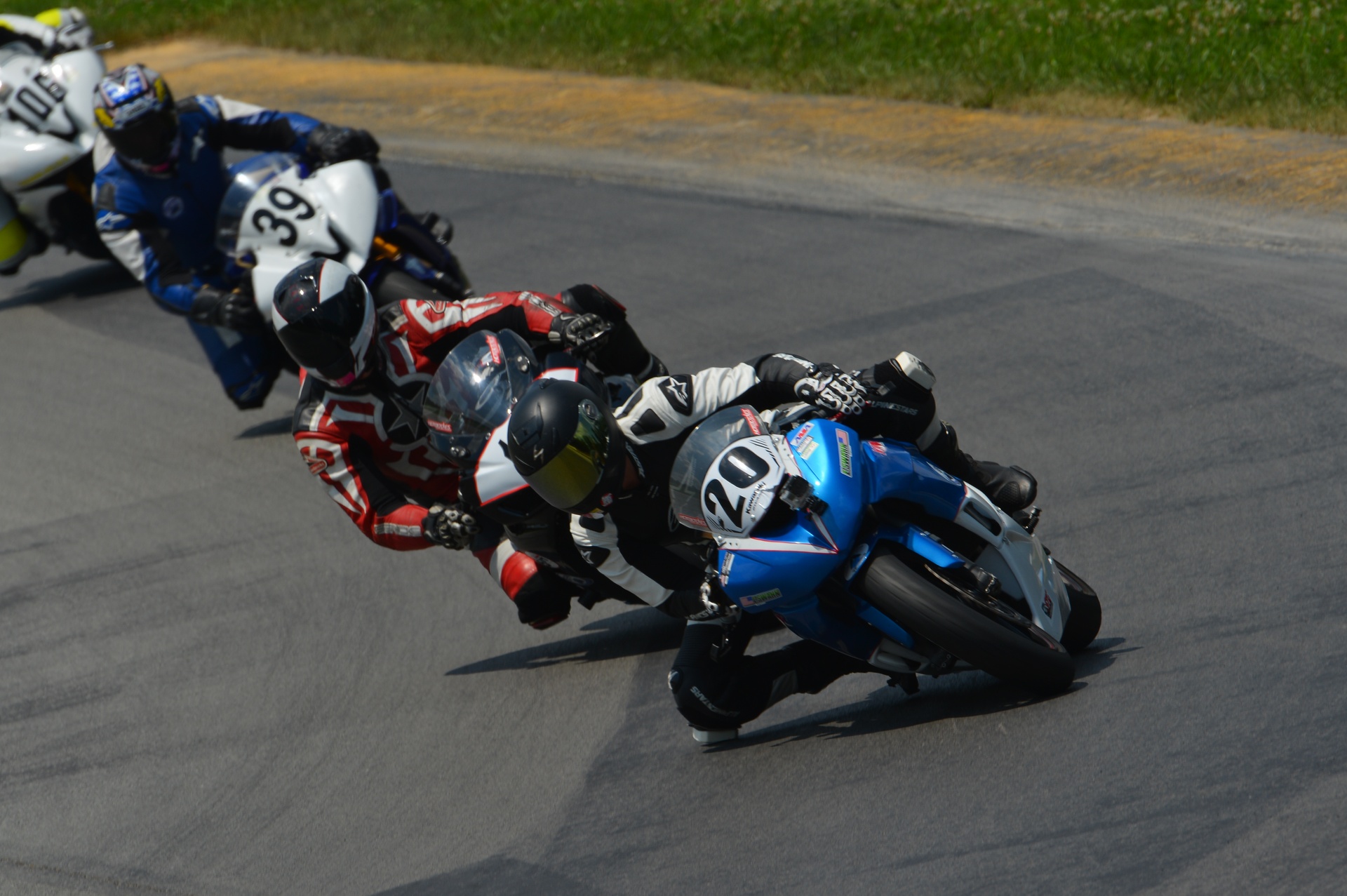 This event was my first event with real sponsorship to my name. I work at SportbikeTrackGear.com in the Sales department and they've decided to help me out with racing. With SportbikeTrackGear.com STG and KNOX USA helping out I felt pretty good out there. I had a freshly painted bike sporting the STG blue and white colors along with some of their logos on my bike in various places.
The first few sessions on Monday were just about finding which way the track went and feeling comfortable and confident on the bike again. By the end of the day I was passing people and pushing my braking points. On Tuesday, some of my buddies Al Zahoui, Nick Hande, Gary Kole, Devon Perlenfein, Eddie and Joe Kraft all were out on track showing each other lines and trying to find time here and there. It was a good time and I was focusing a lot on my body position. I haven't been running my lap timer in the practice sessions lately because I seem to drop a few seconds on race days. My good friend Devon, who has tons of laps at this track gave me a tow and helped me get down to 1:38s.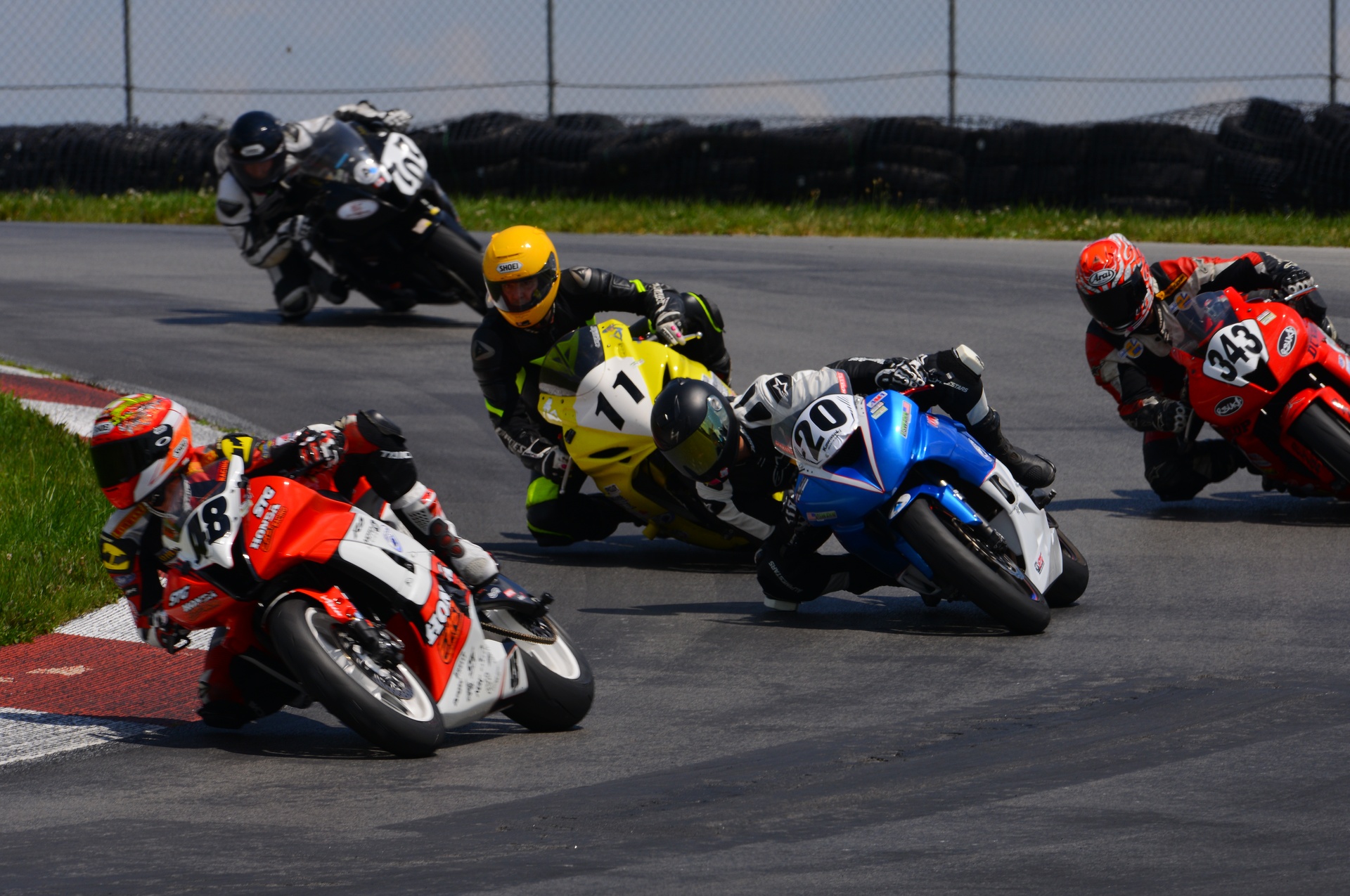 At the start of the season in May, I did very well and as a result was gridded on the front row every race. This helped me out tremendously because I knew that guys were doing 34's in practice and I was into the 37's. My starts were decent, and I could hold on to the front group for at least the first two laps but after I lost touch with the leaders I found myself going backward. While still running good lines I focused on using the whole track and making myself as wide as possible. I kept lines that would make it very difficult to pass but not defensive to the point where I would compromise my lap time. This worked pretty well on the guys who were in my time range but a few guys were definitely faster and didn't have a problem passing me as a rolling blockade. I had several people come by my pit after the race telling me how hard it was to try making a pass on me. I finished 8th and two 7th places on Wednesday. The last race of the day would be moved to the morning on Thursday due to a lack of time.
Thursday was another hot day with the heat index around 105 F. In the morning I was able to finish 5th and I was feeling much more confident on the bike. I decided to run my camera for some race footage and I even dropped my lap time another second, with my fastest lap of the weekend being a 1:36.303. I followed up that finish with a 10th, two 7th and 5th places. In the race I finished 10th, I hit a neutral in the braking zone on the back straight. Although I stayed on the track, I lost a few positions. Overall I was happy with finishing all 8 of my races in the top 10. I wanted to finish higher but for my first time at the track I was happy with coming home with a shiny bike. It seems like I'm about 5-6 seconds off the pro guys at most tracks and that's where I left off here. I just need more laps to go faster.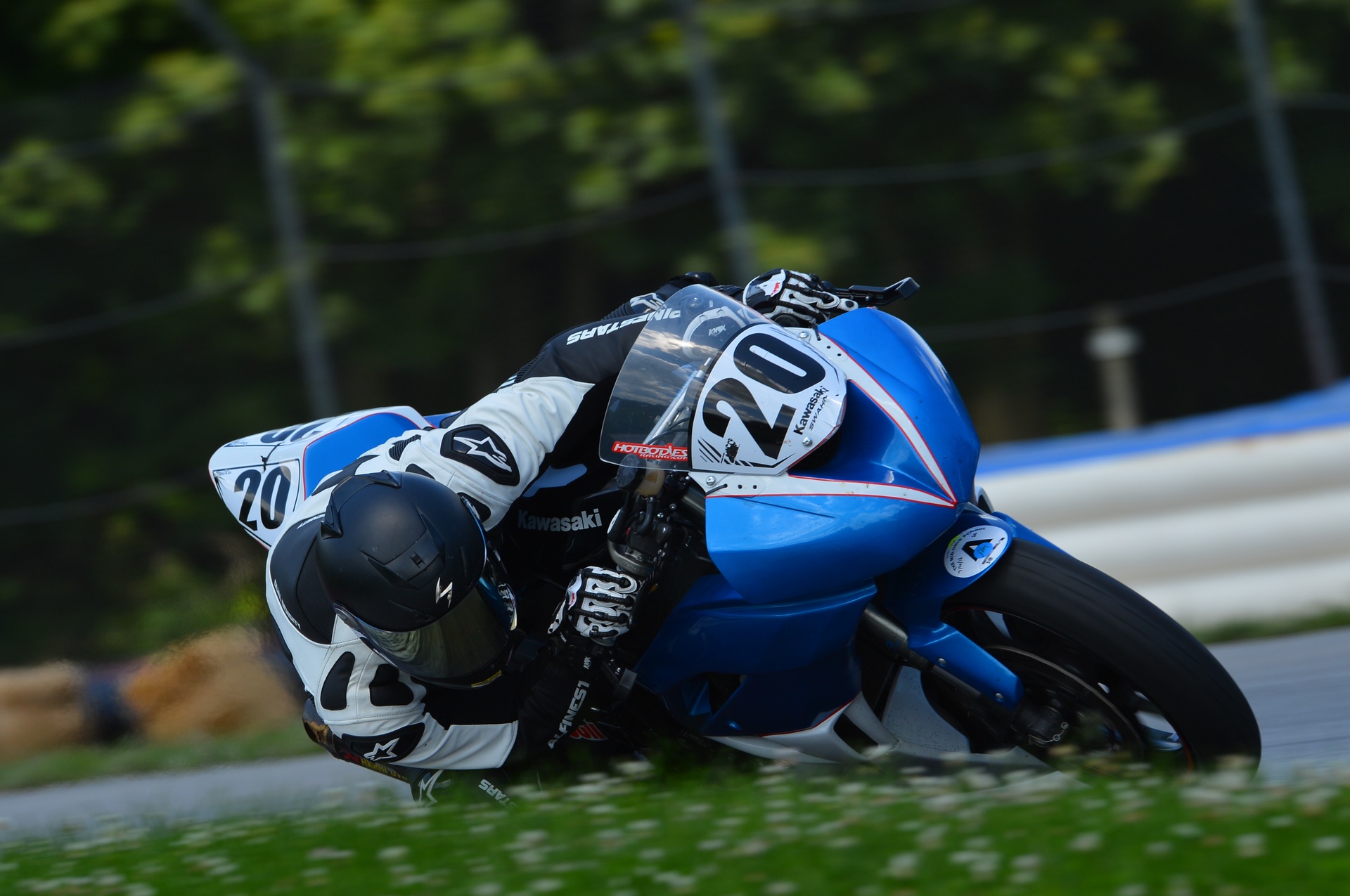 My next event will be held on August 09-11 at Grattan Raceway Clockwise. This is my home track but I've had a lot of misfortune there. I have yet to set a single fast lap at this track. I did my first ever track weekend there back in 2011. One day was CW and the other was CCW which was a lot to take in the first time on a track. The next time I was there was early May 2012 for a race school. I ended up having a pretty big highside which left me with a badly dislocated right thumb and torn ligaments in my left shoulder. I still feel the effects in my shoulder from that one over 14 months later. Two days after my crash I took off the temporary cast and got back on the bike. I entered my first ever races and finished with a 5th and 9th starting from the back of the grid in the rain on DOT tires. Later in the year I went back for some practice time and blew my engine in the first session. This year I wanted to get out to the track as early in the year as possible and I ran into some unexpected weather. When I left for the weekend, it was mid 60s but on the way to West Michigan, it turned into a blizzard. The track was completely unsafe in the mornings but by noon some of the ice patches had melted and turned into semi frozen rivers that flowed across the track. Even with the conditions I still rode every session they let us on the track. It was a unique experience riding while the snow came down. Needless to say I didn't set any fast lap times that weekend either. I look forward to dropping about 10 seconds and being at the front for my next event at Grattan this August. Until then I'll be training hard and logging a few hundred miles on the bicycle.
Race Videos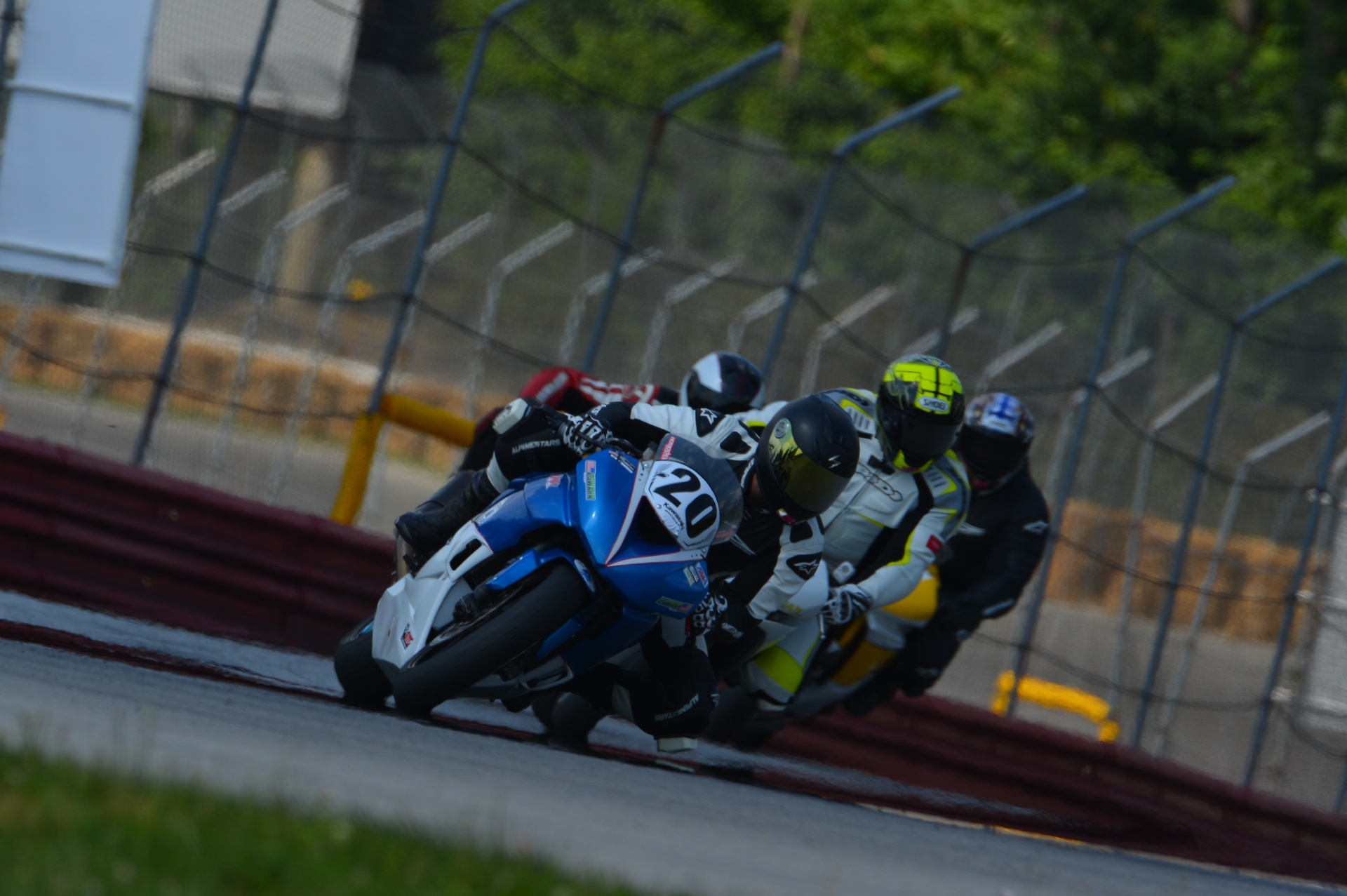 See you all in a few weeks!
Categories: 2013