| | |
| --- | --- |
| Posted by epswahn on July 18, 2014 at 10:35 PM | |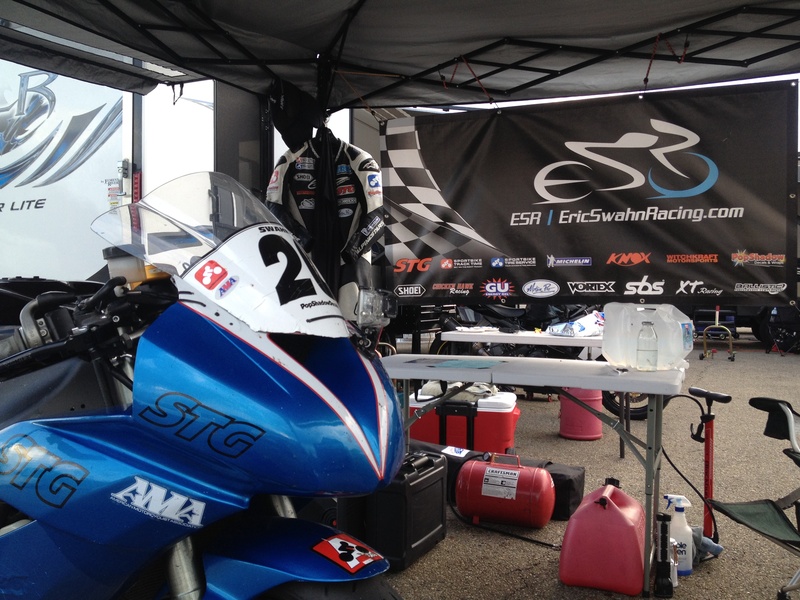 WERA @ Mid Ohio 07/14-15/14
This year's Mid Ohio Sports Car Course event was held during the week again. Due to the vintage motorcycle days and the swap meet we got pushed back to Monday and Tuesday with no practice days before hand. With very little experience at this track, my goal was to drop my lap time from low 36s to 1:34s which is a pretty big jump but still possible.
After packing Sunday morning and cleaning up the house, I left around 3 PM and got stuck in a ton of traffic less than 30 miles from my house. The solo drive wasn't too bad though and took just about 4 hours. I got to the track with a bit of daylight left and set up my pit area. I met up with John Wheatley, Dave Grey, Gabe Miller, John Weirath and a handful of other guys pitted nearby.
For the start of Monday morning, we had to go through registration and tech inspection. Since it was a combined Regional + National event I had 4 races each day. After tech, I jumped in P1 and did a few laps to get my bike and body warmed up. The track was fairly green and didn't offer a ton of grip early in the morning. Throughout practice I was feeling ok and easily dropped time. I got down to a 1:37.9 in practice but knew there was a lot more to find in the races.
During lunchtime, we had the riders meeting and talked about what the situation would be if it happened to rain. A big storm along with a polar vortex was on the radar and did not look promising. Mid Ohio is notoriously slick and can be described as an ice rink when wet. With rider safety in mind, the conclusion was that all 8 lap races would be cut to 6 laps and the feature 12 lap race would be ran as 8 laps. I tend to be strong in longer races so I was a bit bummed, but I'm all for cutting the races down to avoid rain races at Mid O.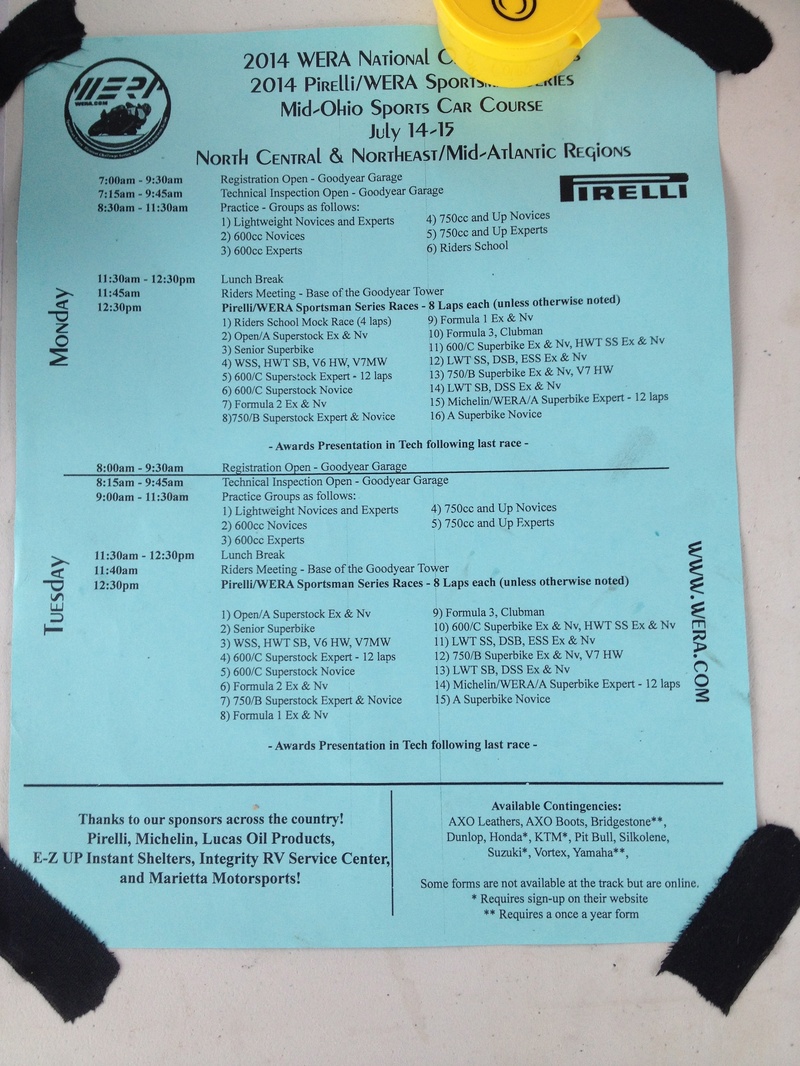 The races started with low 70s weather with very high humidity. I started all my races from either the 2nd or 3rd row since I have decent points in each class, even though this was a combined regional + a national event. My first race was 600 Superstock starting from 8th position. My fastest lap from last year was a 1:36.303 and within my first race I already had dipped below that time with a 1:36.247. On the start I lost one position, but in lap 2 I got it back and finished where I started in 8th. I was having a lot of trouble pushing to go faster. I called my suspension guru Witchkraft Motorsports and we talked about a few options. After a few clicks here and there, I made the adjustments and was hopeful to improve the bike.
It's important to note that although this is club racing, almost every racer who finished in front of me (and some behind) are, or have been AMA pro racers. The competition at WERA is tough and there are always SUPER fast guys that show up. The times at the front of our races were fast enough for a 6th place finish in AMA Supersport.
My 2nd race of the day was 750 Superstock. I started on the 2nd row in 4th position but knew it wouldn't last long. In most of my races I race up in higher level machine categories, which is great experience but not always realistic for better finishing positions. I improved my lap time in this race to a 35.704 but steadily lost positions every lap which was really frustrating. I was still having a lot of trouble feeling comfortable at race pace. The front was chattering quite a bit in several turns on corner entry to mid corner. I finished back in 10th place with Rick Lind 0.092 behind me breathing down my neck at the line. After another call to Joe I made some more changes to the bike.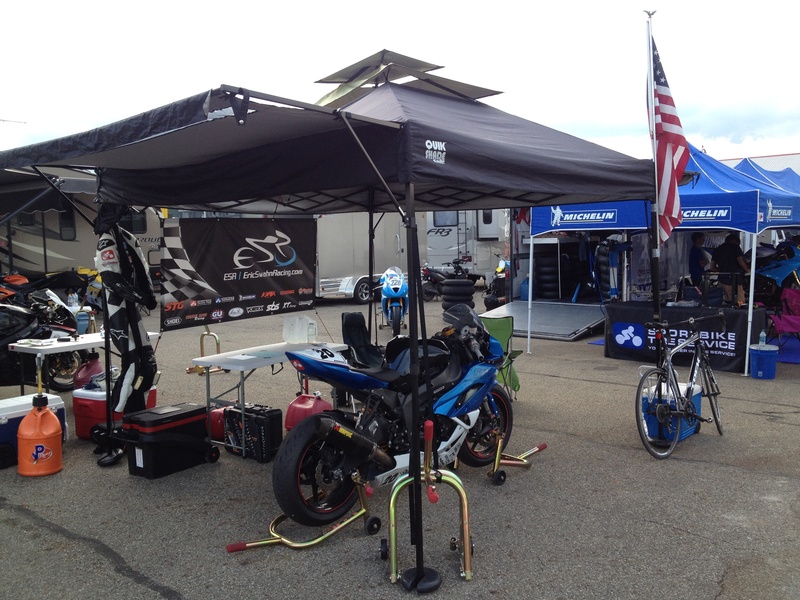 Since I'm still a newbie when it comes to suspension set up, it was the first time I had ever touched my preload on the forks. I found that they were two different numbers which is alarming. My right fork was 3 turns different than my left fork. This means that one fork was trying to do one thing, and the other was fighting against it. This obviously was one of the things holding me back from going faster. I've heard of racers equipment getting messed with, and it makes me wonder if someone was tampering with my bike. There is just no way it can back itself out like that. Unfortunately for the time being, I don't have the luxury of locking my stuff up at night in an enclosed trailer. Maybe it's time to invest in one, or at least a deer cam.
In the next race 600 Superbike, I started on the 3rd row in 6th place. I improved my time again to 1:35.619 which would end up being my fastest time for the day. I was really starting to feel better about the bike and able to battle a bit. On the last lap Bill Meister got by Justin Jones and I and I thought I was also directly racing him. I didn't realize until after the race that he was gridded in another class, but it definitely motivated me to get past Justin. On the last corner of the last lap I managed to get around the outside of Justin and I got him to the line by 0.107. Talk about an exciting finish! That was one of the races I got on video, as my camera has been on the fritz lately.
You can check out the race footage below. If you want to skip to the good stuff the last lap starts at 9:05
The final race of the day for me was 750 Superbike. At this point my tires were shot. After all I used these tires from the last event at PIRC and used them for morning practice. Race tires have the optimal amount of grip for 20 laps, and I had around 80 at this point. I started on the 3rd row again and got a great jump off the line. By the time we got to the keyhole U-turn, we had all bunched up due to a missed shift from the leader Eddie Kraft. Carl Soltisz and Dave Grey got together and Dave got the worst of it. I guess Carl clipped Dave's tire and I found myself having to tighten up my line mid corner to avoid running over Dave's hand. Fortunately he wasn't hit and we continued racing. I was up to 4th with a little help from the pack getting bunched up and Dave being out of the race. Brian Cavinder got past me the next lap and I held 5th until the 3rd lap when the race was red flagged from an unrelated incident than the one I saw. Although the times at the front were slower than some of the other races and it was shortened, I was happy to have the front runners in my sight the whole time finishing 3.3 seconds behind the leader.
At the end of the day I improved my time 0.684 over last year using worn tires. I was happy but not exactly where I wanted to be. I cleaned up my pit, ate an awesome steak dinner provided by John and showered up. We played euchre, and had a connect-4 tournament for the remainder of the night while it rained fairly hard for a few hours. I swept house in connect-4 in a best of 5 series against 6 guys. It was good fun, and lost to Dave at the end (due to fatigue of course).
For Tuesday morning practice, I used the same tires. Before the riders meeting I changed tires to both front and rear A compounds. I wanted to try something different and I think it was the right choice. In the 600 Superstock National feature race, I was gridded up in 8th place on the 3rd row. I had been getting great starts and was up to 5th on the first lap. I hit another fastest lap doing a 35.263, and consistent low 35s the whole race. On the last lap last corner, I heard a bike (Bart DeRosa) on my outside. It was a replay of the video from yesterday except I was on the inside and about to be overtaken. Knowing what I would do if I was on the outside I rode defensively and it worked. I ran wider than usual on exit, leaving no room for him to overtake. I closed the door, he backed off and I kept 6th position to the line. At the finish line I had 3 riders behind me within a half second. Talk about close!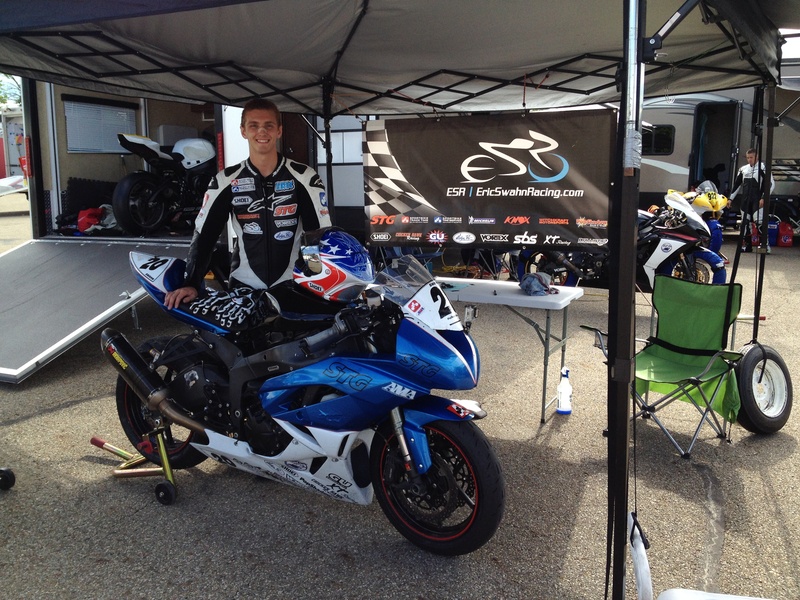 In 750 Superstock, I started 6th on the 3rd row. This was a pretty unique race. We had two separate red flags early in both starts. The third restart I got bogged down and lost a few spots. I got down to 35.107 which would end up being my final personal best time for the event. I finished this race in 8th.
Between races I went over to some of the faster riders and picked their brains for line choices, shift points, and general info. I got a tip for T1 and it HUGELY affected my start. For 600 Superbike I started 7th on the 3rd row and had one of the best jumps off the line ever. Everybody was fighting for the inside of T1 and I went around the outside of everyone taking the holeshot. I led until the back straight where I got motored and relegated to 2nd. Let me say that that again, I got the holeshot from the third row of a 600 Superbike WERA National Series race. Once Kollin Kozik came by me, I did my best to follow his lines and I did pick up a few tips. I obviously didn't have the pace to stay there and faded back to 6th. Regardless of the finishing position I was ecstatic about my start.
The last race of the event for me was 750 Superbike. I was gridded on the 2nd row in 5th. I don't recall what lap it was on, but Bart made a pass on me on the second double apex right before thunder valley. We were within a foot of each other when he just barely nicked the inside curbing and tucked the front. Luckily he slid out of the way because I had nowhere to go and nothing I could have done anyways. We were at full lean at the apex. It was up to good fortune at that point. He and the bike were both relatively ok and we continued racing. I was in 4th for a few laps and later got relegated to 7th with Chad Linter .069 seconds behind me at the line. I've been working on being wide and using the whole track. I'm definitely getting better at blocking effectively while still running fast times.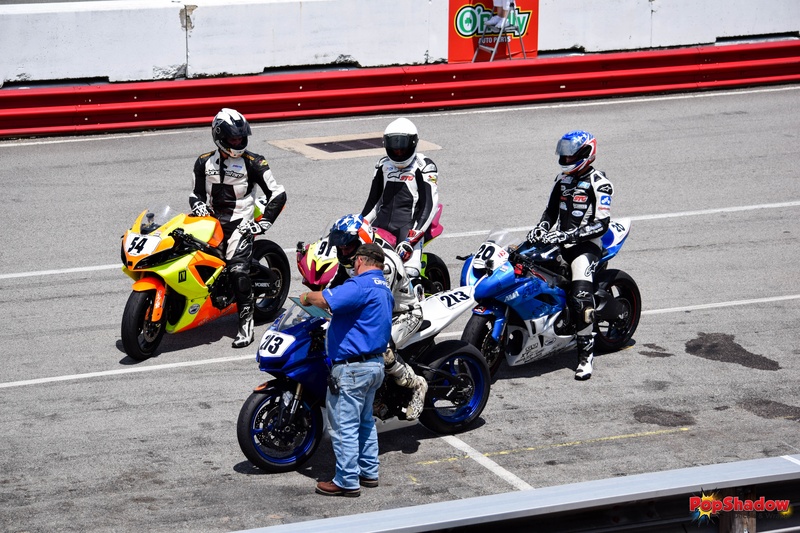 Overall, I finished every race in the top 10 and was one tenth from my ideal lap time. I'll be getting ready for my home race at Grattan raceway the first weekend of August. Come by and see what it's all about!
I'd like to thank all my sponsors for their continued support. Please help support the sport by considering using the products and or services from the companies who give back to the racing community. Sportbike Track Gear, Sportbike Track Time, Sportbike Tire Service, Michelin, Knox USA, Witchkraft Motorsports, Pop Shadow Decals, Shoei Helmets, Chicken Hawk, GU Energy, Motion Pro, Vortex Racing, SBS Brakes, XT Racing, Ballistic Performance Components, and Kraft Chiropractic.
Thanks for reading!
-Eric Swahn
Categories: 2014