| | |
| --- | --- |
| Posted by epswahn on July 10, 2014 at 6:30 AM | |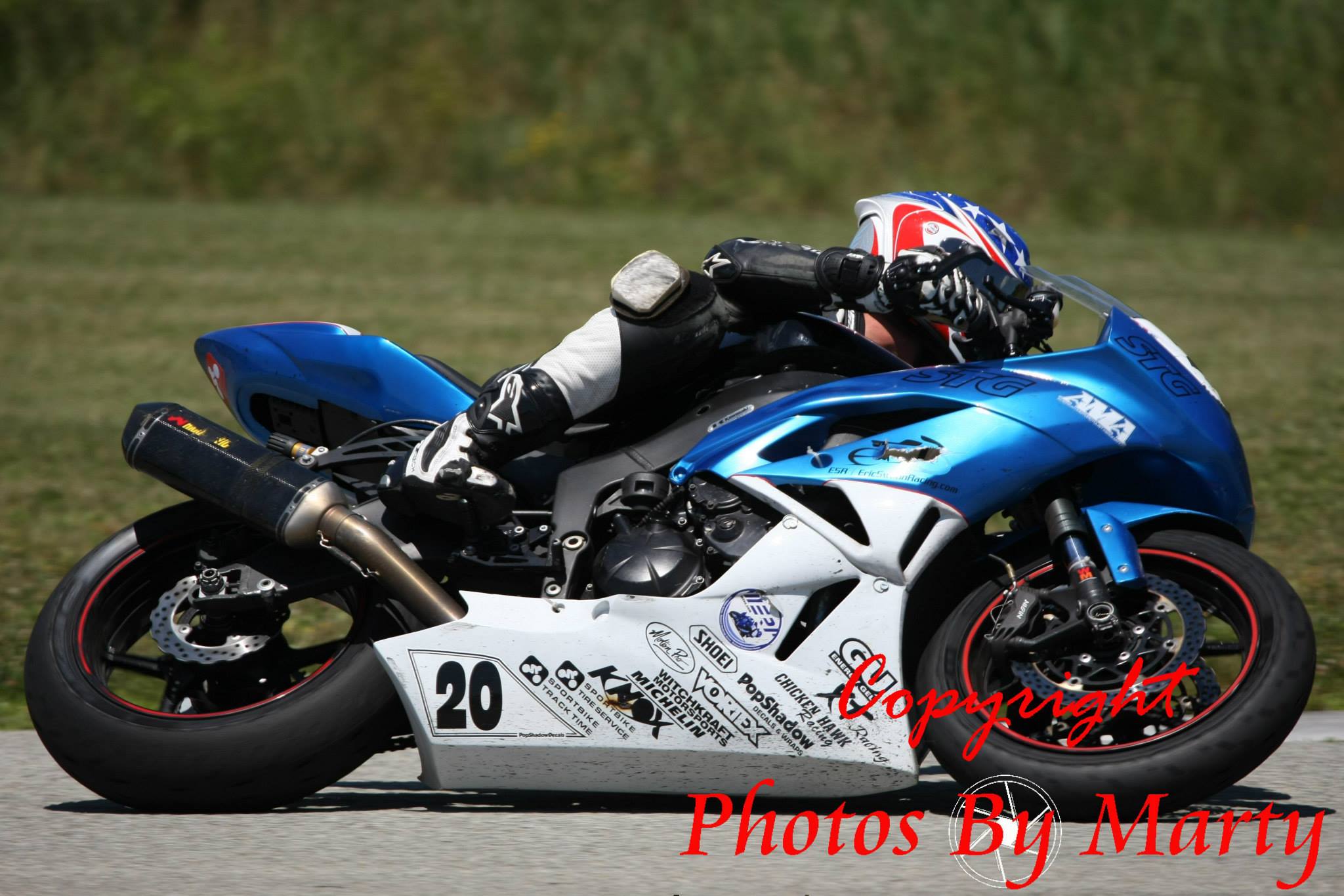 Round 3 – WERA @ Pittsburg International Race Complex
Forth of July weekend was the third round for the North Central Region. Unlike most weekends, there was no track day / practice day on Friday to learn the track and get comfortable. PIRC is about 4.5 hours from my house, so it's not too far. I arrived after dark to set up my pit area and hung out with a few good friends before getting some sleep.
Saturday morning we had a few short practice sessions. I used my tires from the National races last round at Road Atlanta to re-learn the track. I skipped the first practice session getting everything ready and went out for round two. I did four laps easily got into the 1:03 lap times. The second session I was able to get down to a 1:01.880 on used tires, which was within a second of my personal best race time. I felt like I wasn't really pushing due to my tires but yet I was still knocking on the door of overall improvement after 8 laps around a track I hadn't been to since last September.
*Lunch break*
After the riders meeting and lunch, were the Solo 20 lap races. I was in race 2 and gridded in the back. I started last in 9th, but made a great start and found myself in 3rd by T5 on the first lap. Still riding on old tires, I knew I had more pace but didn't feel like I could safely push on to catch 2nd place. I had to muscle the bike around and the front was chattering quite a bit on entry to T1, T2, and T7. I went faster than I had in practice with a 1:01.431 but I was riding conservatively. There was a ton of lapped traffic at this track since a lap around PIRC is a little shorter than most at about 1.6 miles. Us guys at the front lapped a few riders 2 and even 3 times within the race. James Hart passed me mid race while we were dealing with lapped traffic but I got past him within another lap. I held 3rd place the rest of the race yet when I came into the pits after the race, I found out that 2nd place had either crashed out or came in due to a mechanical problem. I ended up finishing in 2nd place, 15.9 seconds off the leader at the line and I was pretty happy with that result.
About an hour after the races I experienced a pretty nasty migraine with aura. I literally couldn't see straight and tried to sleep in my buddy John Wheatley's camper for about 6 hours. Loud noises, heat, and mid day sun is not a great mix for someone with a migraine. I've changed my diet pretty drastically starting in middle school and it's very rare for me to get one nowadays. I've found that my body is sensitive to foods high in nitrates such as processed foods like hot dogs, sausage, and deli meats. In the morning I had a bit of jalapeno beef jerky and didn't think anything of it. I guess jerky is another food to add to the list. Later in the night I was feeling better but still had a pretty bad headache. I got some food at a local Italian place and got to sleep super early.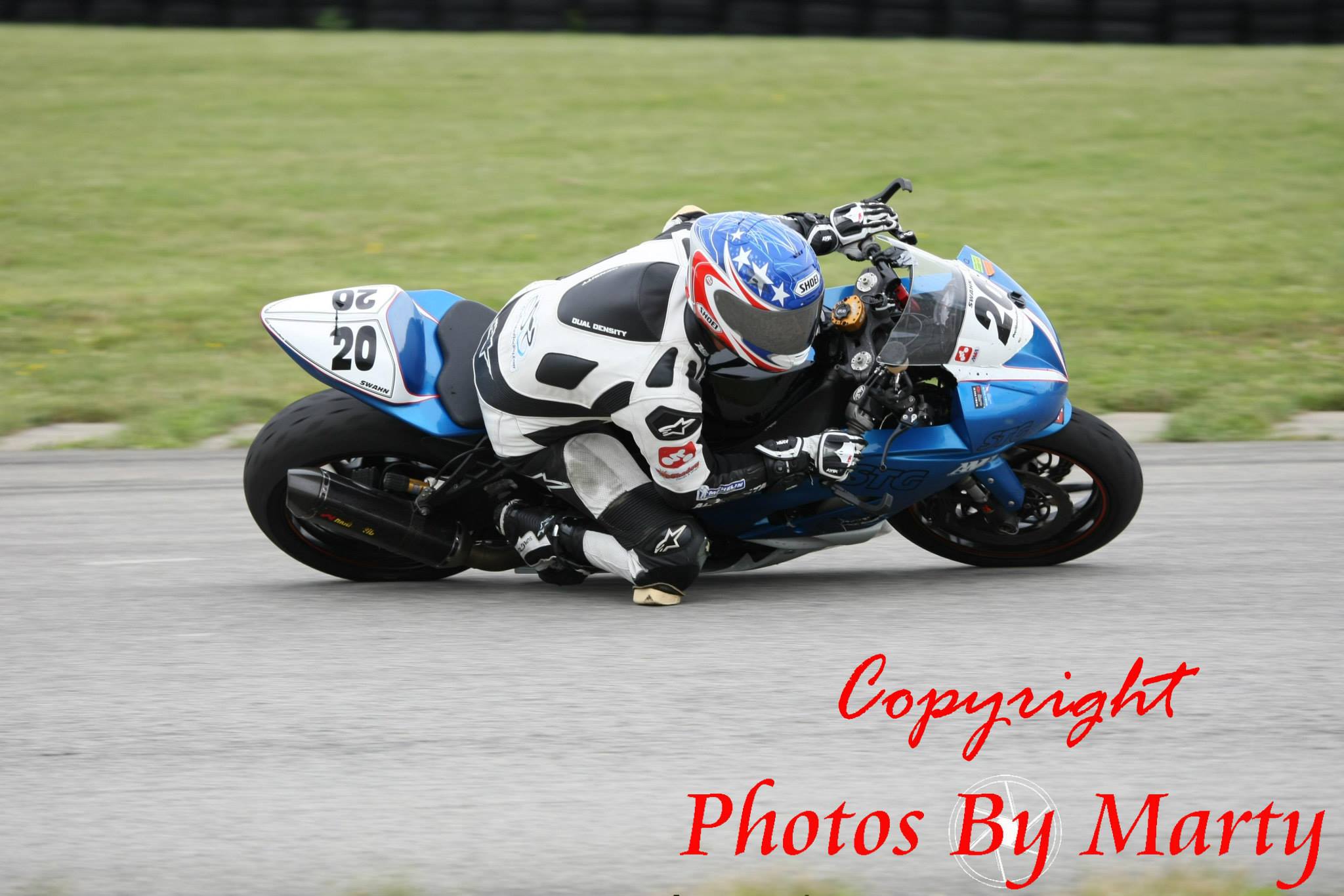 Still recovering from the day before, I was feeling pretty foggy and decided it was better not to practice in the morning and see how I felt after lunch. I changed my tires to new Michelin Cups, changed my gearing to a larger tooth rear Vortex sprocket, and changed my brake pads to brand new SBS DS pads. I filled the bike up with some more race gas (93 pump gas), put on my tire warmers, set the pressures and cleaned up the bike here and there. I ate a good meal and was feeling pretty much back to normal when the riders meeting came around.
As usual I was scheduled for four, 8 lap sprint races for championship points. First up was C Superbike. I was gridded on the front row (due to my points) for all races which always helps. I got a good start and dropped a full second over my PB lap time, and 1.4 seconds over my fastest lap on Saturday. The new tires let me push like I wanted to , and the gearing was just about perfect for the track. Since I didn't do any practice, I only got to bed-in the brake pads on the warmup lap. Talk about a hairy turn one on the first lap! Once I got settled in the race, I stayed with the lead group but did not feel comfortable enough with the bike in a few areas still. The places I was having trouble with the day before were still hindering my progress. I had attributed it to tires alone, which didn't help the situation, but that was not the only issue. It was difficult to pick up the throttle which obviously isn't the fast way around the track. At the finish line I crossed 6th, only 6 seconds off the leader.
Knowing I had more in the bag, I talked to Joe Kraft of Witchkraft Motorsports and he helped me with the suspension. I told him the issues I was having and he translated that it into clicks of suspension change. He stiffened up the bike all around, which typically needs to happen once you reach a certain pace. The next race for me was B Superbike. I was gridded in pole position, and was in 3rd place by T1. With the changes he made, the bike behaved much differently. I went from not feeling comfortable doing mid pack times, to being right at the front running very consistent fast times. I dropped even more time getting down to a PB lap time of 59.395, which was 0.511 seconds off the fastest lap of the weekend. I stayed in 3rd and was slowly gaining on 2nd place. Cale Jones, in 2nd ran wide in T1 on the 5th lap and I took over 2nd place.
I had Eddie Kraft in my sights and kept pushing on. I ran a little wide on the exit from T5 which set me up poorly for the left hand T6 at the top of the hill. Turn 6 is a section of the track that is bumpy if you're a little off line, and you're leaned over pretty hard to set up for the next downhill right directly after it. I took the turn with more lean angle than usual, but tried to keep the same amount of throttle as the lap before. I severely miscalculated the amount of available traction and the rear broke loose. I left a huge black mark for about 30+ feet and knew my rear tire was over a foot out of line from where I needed it to be. I somehow regained some traction and thought to myself, "well I'm still on the bike so I still got this!" The next moment, I was high-sided to the moon and landed hard on my left side. I remember looking up track and trying to kick my bike away so it wouldn't roll on top of me.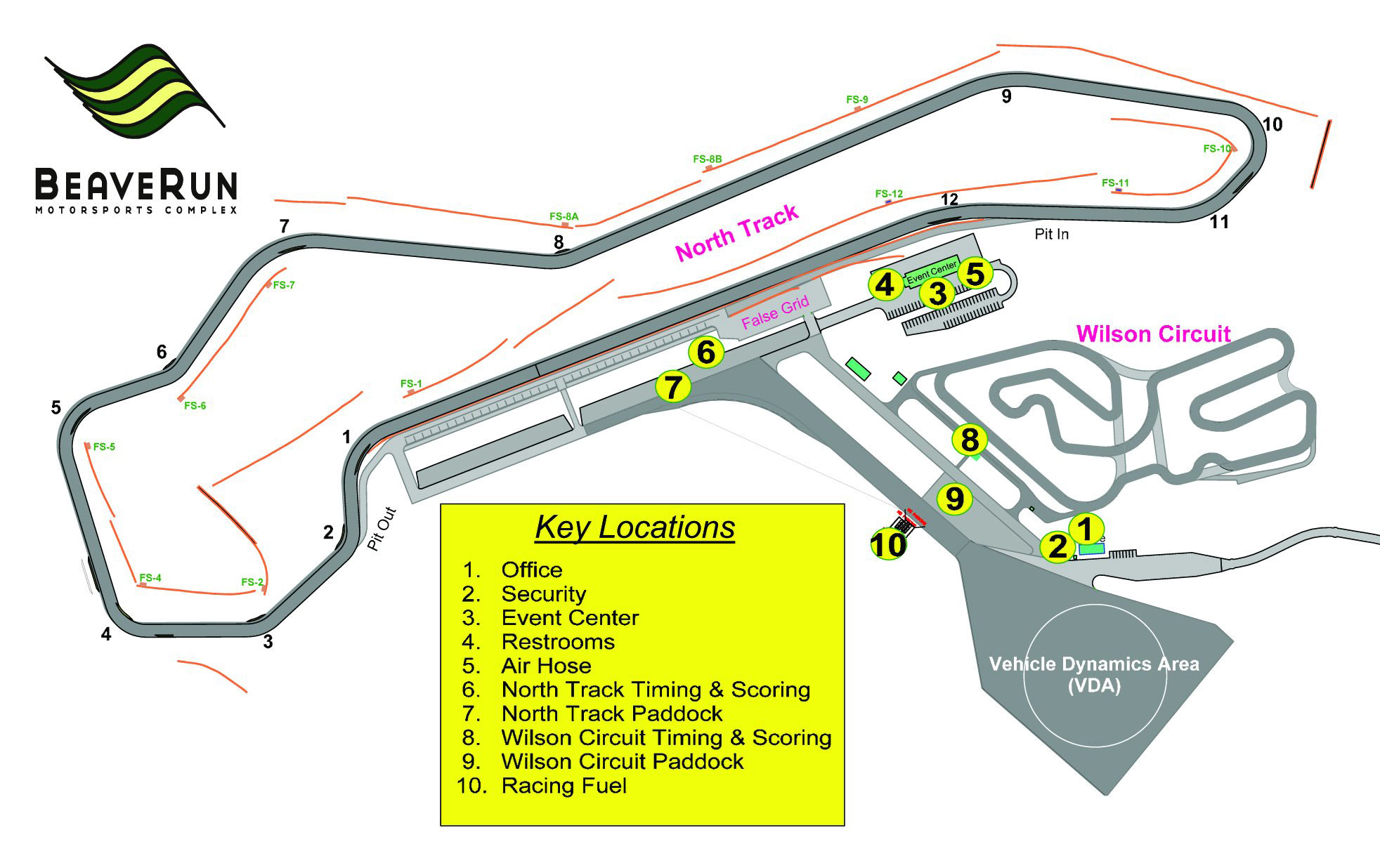 Once I came to a stop, both the bike and I were about 10 ft off the apex of a completely blind turn due to the elevation. I got off the track safely and left the bike on track; the race was red flagged. Between getting of the track and jumping behind the inside guard rail, another rider Gabe Miller had hit my front tire and also went down because of it. I didn't even see it happen, but he claimed the corner worker didn't get the flag out quick enough. That's a situation you never want to be a part of, but we both got up relatively uninjured. I walked away with a nasty internal bruise on my left elbow, sore left palm and knee along with feeling like I got beat up all over.
The crash damage wasn't terrible, but it was enough to end my day. The left side of the bike needed a new clip on, clutch lever, rearset, and to fix up the bodywork. The tank was dented and my case cover is rashed up but still functional. My suit took a hit too, but it did its job in protecting me. The knees ripped quite a bit along with the stretch panel on the back.
I was super happy with the lap time I got down to. I shaved over 1.6 seconds off my best time from last year. On the flip side I was disappointed that I made a dumb mistake that cost me valuable championship points in three races. I'm fortunate to be un-injured and as long as I learn from this mistake, it will help me become a safer, faster rider.
I'd like to thank all my sponsors for their continued support. Please help support the sport by considering using the products and or services from the companies who give back to the racing community. Sportbike Track Gear, Sportbike Track Time, Sportbike Tire Service, Michelin, Knox USA, Witchkraft Motorsports, Pop Shadow Decals, Shoei Helmets, Chicken Hawk, GU Energy, Motion Pro, Vortex Racing, SBS Brakes, XT Racing, and Ballistic Performance Components. Photo credits to Photos By Marty, and Eric Schmitt for the last photo. 
I'm happy to announce a new partnership and addition to my race program. For the remainder of the 2014 season Dr. Paul Kraft of Kraft Chiropractic Clinic has become a part of the team. They have three locations in Metro Detroit, Troy, Warren, and Rochester Hills. I prefer Rochester Hills since it's the closest for me. After a rough weekend such as this one, going to the chiropractor is a must. When your body is aligned, the healing process can start much more quickly. Kraft Chrio also specializes in Asyra, massage therapy, nutritional & lifestyle counseling, spinal & postural screenings, as well as a wide variety of supplements. I've been to several chiropractors throughout the years, and Dr. Paul Kraft is by far the most knowledgeable and well-rounded doctor I've dealt with. Some of his adjustment techniques include Diversified, Thompson, Gonstead, Cox, Toggle Recoil, and Activator. If you're in the market, I highly recommend you check them out! For more information please visit www.kraftchiro.org.
Thanks for reading!
-Eric Swahn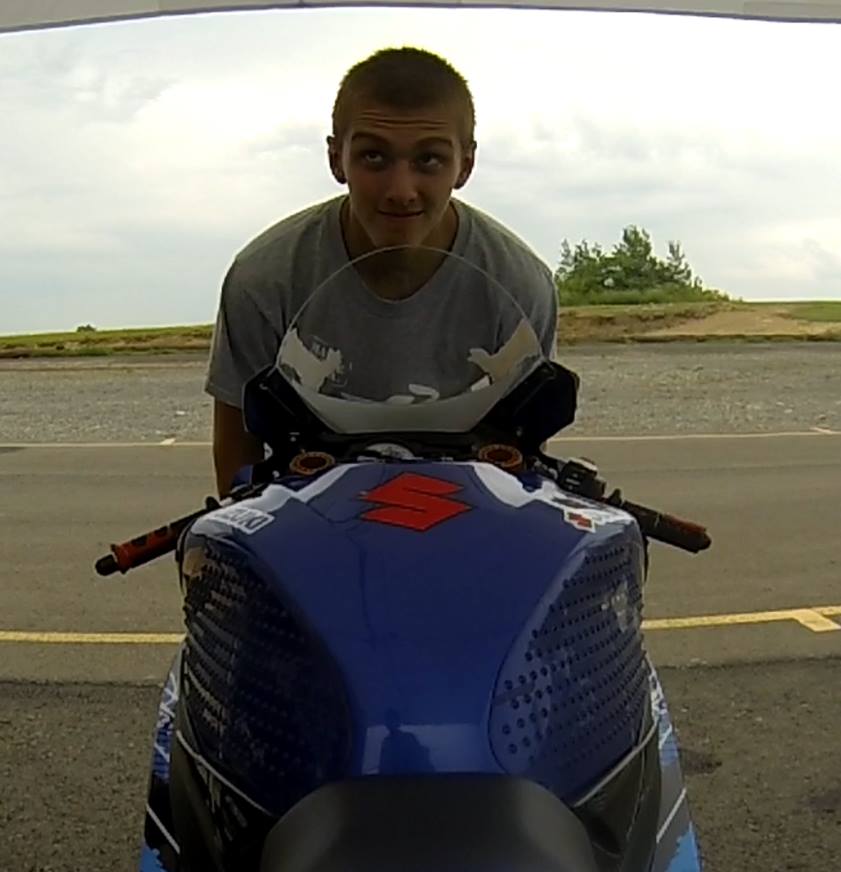 Categories: 2014