| | |
| --- | --- |
| Posted by epswahn on August 26, 2013 at 1:10 PM | |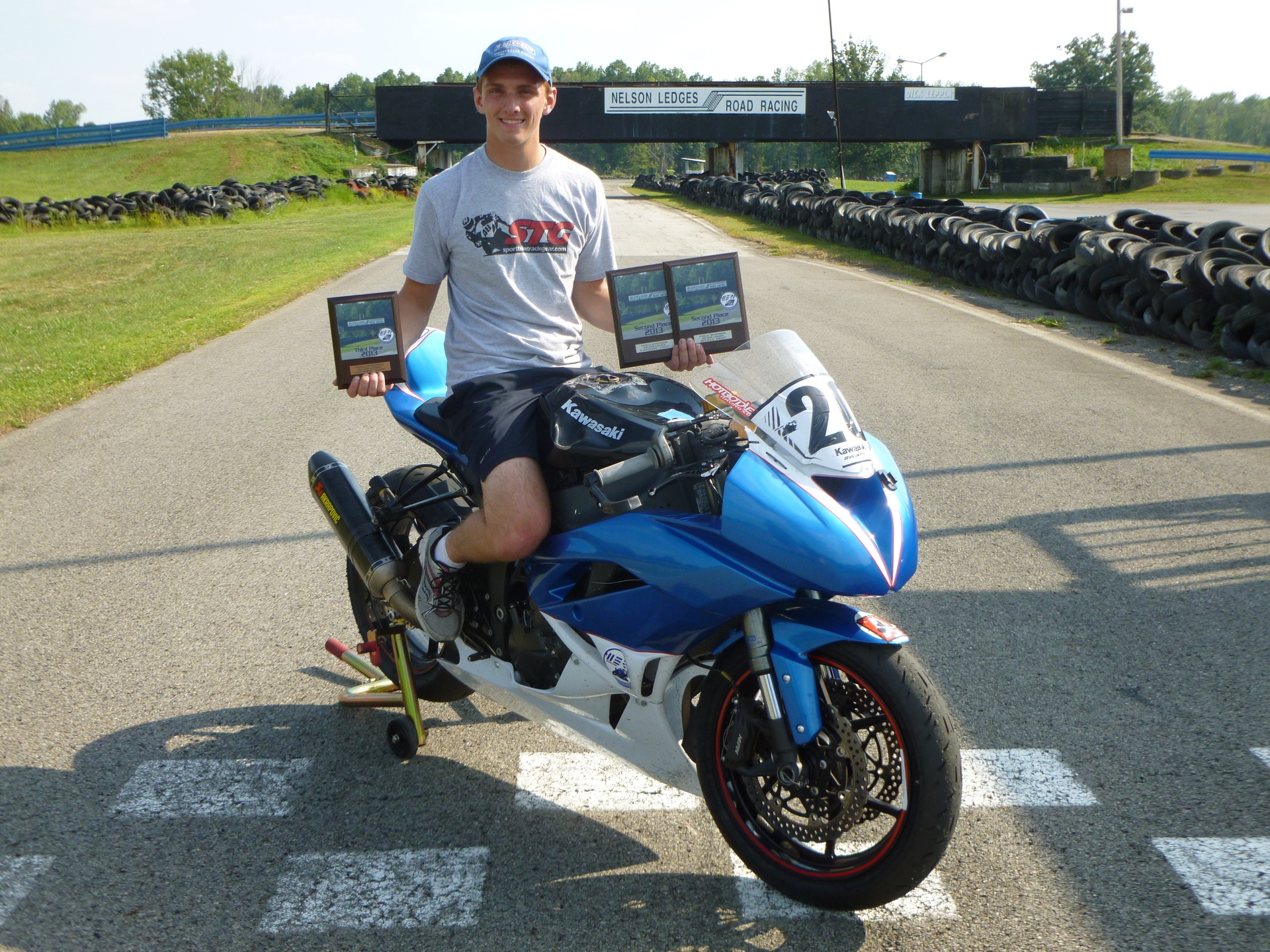 Nelson Ledges is a track on the schedule that nobody seems to like. The track is bumpy, there is grass growing through the track, run-off is inadequate throughout most of the track, tire walls line the entire track, the bathrooms are glorified outhouses, and most of the pits are gravel. Did I mention the track was bumpy? It has degraded to the point where if you get off line more than a foot, you're asking for trouble.
Personally, I am a very positive and optimistic person and I love this track. Some riders see this as a track that is just too dangerous and won't race on it. I see this as a challenge that I must overcome or I'll become afraid.
Back when I was a street rider, I joined a local riding group called Kneedraggers Anonymous otherwise known as "KA". We took a trip down to the Deals Gap in TN. This trip changed my entire outlook on riding a motorcycle. For those who don't know, Deals Gap is a public road that stretches 11 miles. The kicker is that there are 318 turns and you're on the side of a mountain. To put it into perspective, if you were to crash, you could fall a long ways down, or crash into the face of the mountain on the other side of the road. The mentality I gained from riding roads like these has helped me stay safe in high-risk situations. Such as racing at Nelson Ledges or other tracks that have similar sections where there may be an exposed guard rail, tire wall or cement wall. The mentality is that crashing just isn't an option in these areas.
In June, I came here for my first MotoSeries race. I had a great weekend and rode within one tenth of my previous best lap time from 2012. The weather in June wasn't as good as last year so I knew I could match or beat my lap this time around with WERA. Since I now know the track fairly well, I skipped the track day on Friday and left work (Sportbike Track Gear) a few hours early to make it down for another weekend of racing.
The schedule for the weekend was to have the Solo 20 races on Saturday and Sprint racing on Sunday. In morning practice I was off pace and in the 1:13's. Come race time I knew I would get up to speed fairly quickly. The solo 20 race is always a great opportunity to find time and get into a rhythm.
Starting back on the third row, I had to get around a few bikes in the early few laps, which initially slowed me down and allowed Eddie to pull a gap on the rest of us. I dropped two seconds from practice to be lapping in the 1:11's, but still not enough to beat my personal best (PB). I was 2nd for a while, and was getting into my groove when I lost the front in T3 on the bumps. Thankfully I had good throttle control and it gripped and came back. After that, I slowed down a bit and Rick Lind was all over the back of me for quite a few laps. He eventually made a pass on me and made it stick. I missed a gear downshifting into T12 and lost over a second. The rest of the race I was slowly catching him but it wasn't enough. To my surprise, Eddie exited the race in 1st with Mechanical Issues. I ended up finishing 2nd behind Rick. I didn't crash and I got bumped up a position without even being aware of it! This was definitely a good start to the weekend.
The weather was beautiful, and wasn't overwhelmingly hot the whole weekend. Despite the great weather, everyone's tires were being quickly shredded. My best guess was that it was from the wobbles and wiggles attempting to put the power down over all the bumps. Small slides every lap in certain areas was just tearing up tires.
Sundays schedule held four sprint races for me. In the 600 Superstock (CSS) race I finished 4th, and improved my time to the 1:10's. The next two races were the dreaded back-to-back races. The 750 Superstock (BSS) race was up first and then 600 Superbike (CSB) right after with less than a 5 minute break. I set my PB lap time at a 1:09.950 in BSS and 1:10.038 in CSB. Not only did I improve my fastest time but I was much more consistent with my times. My fastest laps between those two races were a minuscule .088 difference. I was very happy with my pace and I was even more competitive than I thought I could be; I was right with Eddie and Ian for the majority of the race. I attempted a few passes on Ian but wasn't able to make them stick. He is a very talented young rider, and some of his line choices made it difficult to pass. C Superbike, I finished 4th. I had quite a gap to the rider behind me and finished comfortably in 3rd place for BSS.
My last race of the day was 750 Superbike (BSB). By this point my tires were just about done. I backed off my pace a few percent to still be at pace but to do it safer. To my surprise, I was only two tenths off my fastest lap yet I was riding at what felt like 85% of my full capability. I kept Eddie in sight the whole race but wasn't able to get close enough to make a move on him. I finished comfortably in 2nd place. Things throughout the weekend seemed to progress very nicely for me. I would be at a certain pace that would be my max, and then it would feel easier and safer.
It was very cool to have my mom and brother come out to support me on Sunday. My brother Kevin had never seen a motorcycle race in person and he really enjoyed it. He drove all the way from St Peter, Minnesota! It was a shame he couldn't have come to a nicer venue like Barber or Road Atlanta, but he thought it was really cool.
To recap:
Middleweight Solo 20: 2nd Place
600 Superstock: 4th Place
750 Superstock: 4th Place
600 Superbike: 3rd Place
750 Superbike: 2nd Place
Fastest Lap: 1:09.950
Fastest 20 Lap Race: 16:58.453
Fastest 8 Lap Race: 09:28.054
Thanks to:
David Grey for all the guidance, Sportbike Track Gear, Knox Armor, my parents, Kevin for coming out and seeing what all this is about, and everyone else who has made this weekend great. Thanks for reading the Eric Swahn Racing Blog!
Categories: 2013