| | |
| --- | --- |
| Posted by epswahn on June 11, 2013 at 1:05 PM | |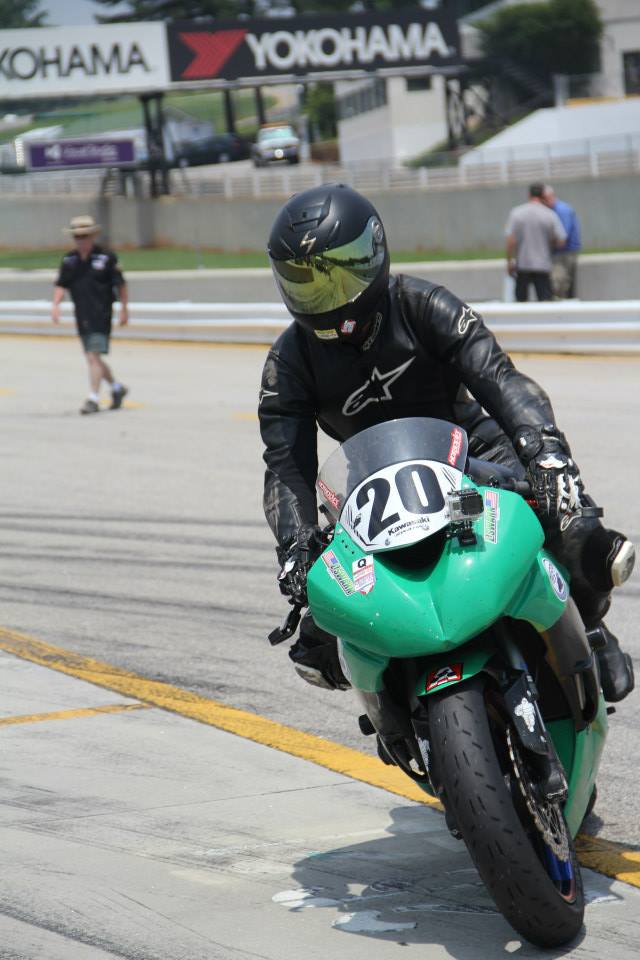 Road Atlanta in Braselton, Georgia is the site of the annual WERA Cycle Jam. It's one of the biggest events on the calendar every year and I was fortunate enough to be able to attend this year. The Cycle Jam is different from other events in that they have all categories of racing in one jam packed weekend. Vintage, Endurance, Sprint and National races are held Thursday through Sunday. Since it's such a big event you get the best racers in the country coming out to compete. Even some AMA racers were there which was pretty cool to try to stay with them. James Rispoli, Curtis Murray, Nick McFadden, Tim Hunt, and David Anthony are all pro level riders who choose to race WERA also. These riders, including many other fast riders were all competing in search of victory.
On Wednesday, Dave Grey and I drove down to Georgia. The trip is about 12 hours and it's much easier sharing the driving with someone rather than driving alone. We met a few friends down there and slept in their trailer/ toy hauler. The weather was on and off all weekend which wasn't very fun as far as changing tires. The last hour or so of driving was a monsoon, but we made it and went to bed early.
In the morning it was still raining and I was able to get two sessions on rain tires before the track became too dry. After switching back to DOT Michelin Cup's I was starting to understand the track and felt more comfortable pushing in certain places. I went from being passed by everyone who had been there many times to passing a few people and picking up the pace. After lunch we practiced in between the vintage races and I felt better every session.
On Friday I didn't ride at all. So I slept in a bit and relaxed. After the endurance practice and lunch started the endurance race. The race was set for 6 hours and I offered to help out the guys anyway I could. I was chosen to do the pit board for the guys in pit road and the rider on the track. Unlike racecar drivers, motorcyclists have no speakers or communication in their helmets to help them with pit stops or racing strategy. The sole means of communication between the rider and the "help" is through the pit board guy. For six hours I showed the rider his previous lap time and the time left in his stint. It was a cool experience and the team did very well. We had a quick change set up on the bike and a quick fuel system so our pit stops were very efficient. I think the fastest change of tires and a fuel dump was 36 seconds. The riders were David Grey, Derrick Cantrell, and another rider Christian. Even with some unannounced pit stops, and one of the tires having way too much air in it, we were able to come in third place in our class. It was a cool experience helping out in an endurance team and I was proud to be a part of it. Aside from getting sunburned and not using earplugs I had a great time and would even consider being a rider for a future endurance race.
The plan was to do qualifying after practice on Thursday but we just ran out of time. I was pretty bummed about not being able to qualify since it would be my first time ever and qualifying with the AMA pro guys would be pretty cool. After that they said we would be gridded based on points in the region, which I had none since I'm not competing in the southern regions. As they changed things again, we were scheduled to qualify right after practice was over. It was a 15 minute single qualifying session for the 600 Superstock Expert National race on Sunday. I went out on track with about a few minutes left. Trying to minimize weight I knowingly went out with a short supply of fuel, but as soon as I got on track my gas light came on. I did 3 laps on fumes and hoped I wouldn't have to come back on the crash truck because I ran out of gas. As my buddy Dave had suggested, I purposely went slow on my first lap to find someone who I could use for a tow to find pace. I ended up being faster than both riders who I anticipated would be faster than me and could've gone faster. Passing two people in a lap slowed me down but I was happy with my time and finishing position. I qualified with a 1:37.280 my first time at the track and 10th in the Nation out of 26 riders.
The Sportsman races were held on Saturday and I was scheduled for four separate races all 6 laps each. The track itself is 2.54 miles of track with a ton of elevation changes and some blind sections. I raced against AMA racers and it was very cool to watch them set the bar for the rest of us. I was able to move up from my starting position every race. My first race was in C Superstock and I started from the second wave. I caught and passed a few riders and by the end, finished in 13th place. In every other race, I started from the first row which helped out tremendously. C Superbike, I was gridded 14th and moved my way up to 6th place at the end of the short race. I know that if I had more laps that I could've done better. I followed up with another 6th in B Superstock and a 7th in B Superbike. I eventually lowered my best lap time of the weekend to a 1:36.836 and was happy with that.
The National series races were on Sunday and this would be a first for me. Coming off a great qualifying effort, and gridded 10th I had the mindset to push and try my hardest to hang on to a top 10 finish. I had a great start and was in the lead group. Before the back straight, T6 is an uphill 90 degree right hander that has lots of camber near the apex. Curtis Murray, an AMA racer was gridded behind me and he came alongside me on the outside to pass me into T6. I decided to let off the brakes a bit to hold onto the position and ran wide at the apex. I knew that if these guys got away that I would have a hard time staying with them. This corner is coming off a fast straight and I tucked the front around 100-120MPH. My bike went into the gravel trap and flipped 4 times before landing a few feet away from the air fence at the end of the run off. I luckily only fell less than a foot and slid on my hands and knees. Once I came to a full stop I ran over to my bike but there was no way I would be getting back in the race. The bike needed a new tank, ram air, sub frame, brake lever, reservoir, bodywork, windscreen and some other parts. My Alpinestars suit was ripped in the knee after helping me survive my 8th crash and my KNOX gloves were a little torn up but saved my skin. All said and done, I had a minimally sore hip flexor and some heat blisters from my hands sliding over the pavement at over 100MPH.
I was frustrated, but in the end I had a positive experience at Road Atlanta. I found myself learning the track fairly quickly and I was pleased with my top 10 finishes at a national event. As far as crashing it was my most expensive crash and worst of all I wasn't 100% sure why it happened. The bike gave me no warning and came out from under me. I've gone through this scenario many times in my head but the reality was that I was in too hot and had too much brake pressure for the lean angle. I'm looking forward to getting the bike put back together and learning another AMA Pro racetrack. My next event will be held at Mid Ohio 07/15-18/13.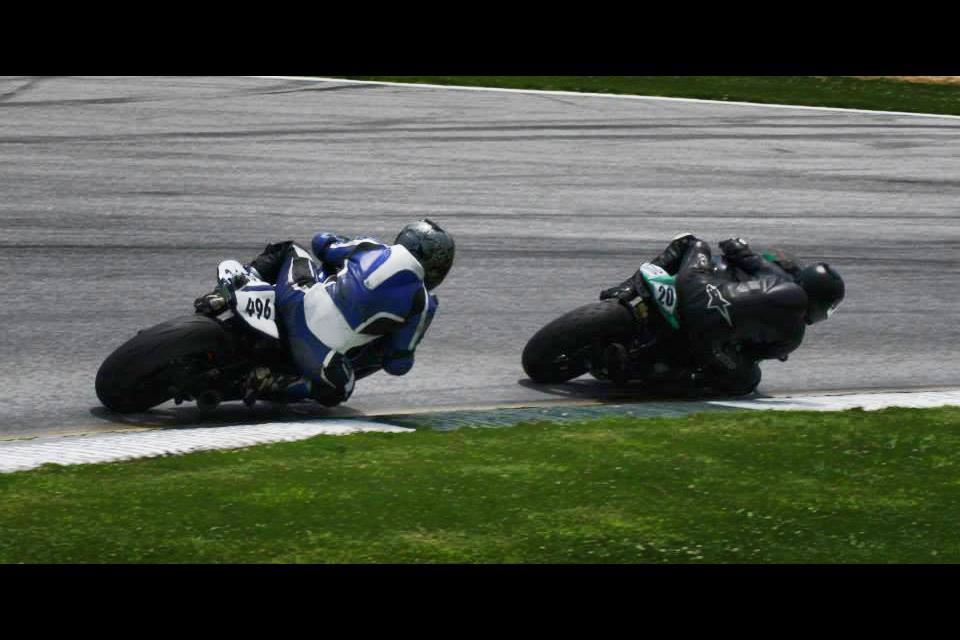 Categories: 2013